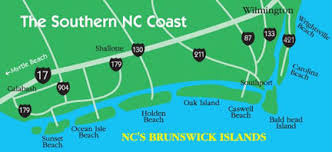 By Sandy Beals.
Ready to Explore the Southeastern Coast of NC?
This blog will be a series so check back for the next adventure often. Taking a road trip requires a nice sunny day in the Carolinas, and a camera. You can start in Calabash or Southport - your choice!
I think starting in Southport will give you the lay of the land and what's to come. Southport is a quaint little village that is so walkable. There are great restaurants along the waterway like Fishy Fish and the Provision Company.
My favorite thing to do is relax by the water front on one of the swings and just watch the world go by. On the way to the waterfront its nice to stroll along the streets and look at the homes and B&Bs, porch railings with beach decor and the beautiful trees. Of course there is also the Silver Coast wine tasting room.
Those who love nature may want to take the self-guided "marsh walk." Beginning along Brunswick Avenue is where you will start this walk along a long boardwalk and has incredible views of the Cape Fear River,
Explore and you will find more....this is just to get you started.
If you would like to purchase a home in this wonderful walkable town, please start here to find your dream home and as always you can Contact Me HERE.
Authored by our Guest Blogger and team member, Sandy Beals 2/9/2018